Remote Desktop Software
Free for personal and commercial use.
Download Now
Windows (7Mb)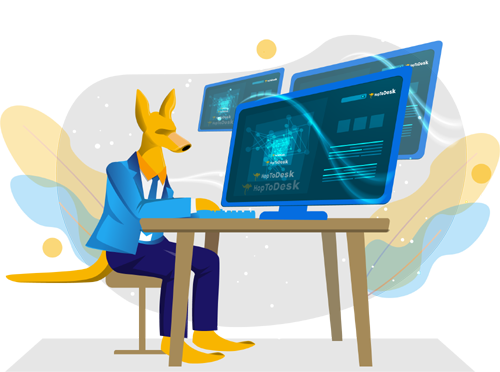 Features that Matter
Free remote desktop software featuring true end-to-end encrypted traffic, file transfer, and live chat.
Multiple Platform Support
HopToDesk is cross-platform and works on Windows, Mac, Linux, Android, iOS, and Raspberry Pi.
End-To-End Encryption
All traffic is protected with end-to-end encryption, including screen sharing, chats, and file transfer.
Free and Open Source
Free for both personal and commercial use, without limits. Customize HopToDesk or add additional features by contributing to the open source project.
Contact
Contact HopToDesk using the form below.
About HopToDesk
HopToDesk started with a need for a high security, easy to use, cross-platform remote control software. For more than a decade, the industry has been dominated primarily by a few solutions: higher cost providers that monitor and track their users while making a distinction between personal and business use, or free products that are often difficult to use as they may require manual router configuration to work properly and often lack support for various platforms.
We strive to provide a better solution by offering a product that enables end-to-end encryption by default between all connected devices and thus can not monitor user activity or make distinction between personal and business use. Additionally, HopToDesk supports all major desktop and mobile operating systems, is easy to use, open source, and available in over 20 languages.
HopToDesk is completely free for both personal and business use under a fair usage policy. In the future we may implemented a freemium pricing model for heavy usage, private cloud network capability, customized branding, or enterprise solutions. HopToDesk is an American company based in the USA.